Compare Krill Oil Products
Ingredients list
Tri- KRILL™ Capsules
(per 500 mg capsule)
Viva Labs Krill Oil (per 600 mg capsule)
Source Naturals (per 500mg soft gels )
Neuro Krill (per 500mg capsule)
MegaRed Omega(per 500mg soft gel )
Omega 3 fatty acids

120 mg.

150 mg.

125 mg.

0 mg.

115 mg.

EPA

60 mg.

82 mg.

60 mg.

75 mg.

64 mg.

DHA

28 mg.

47 mg.

35 mg.

40 mg.

30 mg.

Phospholipids
( With Bonded Omega-3)

200 mg.

200 mg.

200 mg.

125 mg.

167 mg.

Astaxanthin from AstaREAL™

6.0 mg

(more than any other krill oil product)
Non specific Astaxanthin

.80 mg

.24 mg

.75 mg

.25 mg

Krill oil from SUPERBA™

Neptune Krill Oil

Non specific Krill Oil
Phosphatidylserine from soy

100 mg.

Liqui-Krill™ Delivery System

Capliques®

Capliques®

Cost

$44.99 60 ct.500mg per cap

$29.9560 ct.600mg per cap

$24.99 60 ct.500mg per softgel

$67.20
60 ct.500mg per cap

$35.9960 ct.500mg per softgel

Price of you were to add the extra astaxanthin.

$44.99

$69.94

$64.94

$107.15

$75.94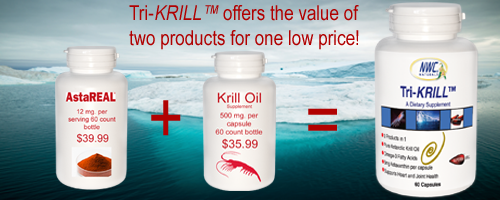 With our krill oil it is like getting 2 products in 1 .
To buy a good astaxanthin product a 6mg of Astaxanthin 6o count would cost you up to $39.95 or more.
For $44.99 you are getting both products that is a great savings.
Some examples:
Prime Astaxanthin 6 mg of astaxanthin 30caps 39.95
Source naturals Astaxanthin 2 mg 120 Softgels 23.99
We also found some krill products are adding extra ingredients to fill the capsules but has no value so always check the supplements facts box. (like Glycerin , other fish oils, soy).