Product Description
More Information
Ingredients
Directions
Supplement Facts Box
FAQ
The best Complete Joint and Allergy Relief Formula for your pets. Dog and cats. Stop the pain Now! Delivers super antioxidant support and Joint relief boosting ingredients with:


Turmeric

Bromelain

Boswellia

MSM
Pet-Enzymes Plus® Can Support Healthy Joints And Allergy Relief In Your Pets. By using the most comprehensive formula ever made by using the power of enzymes with super antioxidants like Turmeric (Curcumin) and herbs.
Improved flavor now Liver and Bacon.
More powerful than Glucosamine and Chondroitin Sulfate products.
The market is flooded with Glucosamine and Chondroitin Sulfate products. But is this really the best supplements for the stiffness, joint problems and allergies our pets may have.
Our new all natural formula is the most complete product every made in a convenient liver and bacon flavor chewable tab.
Our unique formula of Systemic Enzymes from Bromelain, Peptidase and Protease is why you're pet can get the best support they ever had.
Pet-Enzymes Plus ® is manufactured in a facility conforming to strict GMP.
Pet-Enzymes Plus ® contains a superior enzyme formula - guaranteeing a high quality product.
Pet-Enzymes Plus ® contains No Glucosamine and Chondroitin Sulfates that may have side effects.
Pet-Enzymes Plus ® has 14 synergistic pain fighting ingredients together for a systemic enzyme high-potent relief and allergy formula for your pet.
Pet-Enzymes Plus ® Is A Natural Alternative For Normalizing Pain, Joint Support and Fighting Free Radical Damage.
Antioxidants are any substances that prevent or slow the oxidation process.
Remember, free radicals cause oxidation - and antioxidants prevent oxidation. Antioxidants work by donating an electron to a free radical so it becomes a stable oxygen molecule.
There are many different types of antioxidants such as enzymes, coenzymes, vitamins and sulfur containing compounds such as MSM. Also spices like Turmeric.
Pet-Enzymes Plus ® is a potent, all-natural anti-oxidant blend that supports your pet's body's healthy cells. Some pets suffer from unhealthy, chronic inflammation and free radical damage.
Free radicals constantly damage the cells on a cellular level. This kind of damage can degrade the cells to the point of causing pain, inflammation, degenerative disease and more.
Pet-Enzymes Plus ® Helps Support Healthy Cells by Defending Against Free Radicals. By using Turmeric that Fights free radical damage, and improves mobility, with the high Orac scale of 159,277.
Because of the high anti-oxidant properties, this makes this product better than Glucosamine and Chondroitin.
It is the best value chewable tab joint support product on the market!

Vegetarian based enzymes not pancreatic from slaughter house animals
Live Enzyme Activated Delivery System ® (L.E.A.D.S. ®) insures assimilation at a cellular level. This particular combination of mineral cofactors helps to activate each individual enzyme for maximum particle digestion and complete nutrient distribution throughout the body. It increases the formula's bioavailability.

Our tabs do not contain any, chemicals, gluten, soy, wheat free, grain free, no eggs, no preservatives, no artificial coloring or flavoring. This product is Non-GMO and Corn Free.
All Natural Ingredients, our facility that manufactures all of our formulas is Certified and is in full compliance with GMP Requirements for Dietary Supplements. Our ingredients are tested and retested for purity and quality. All NWC Naturals® products are Made and bottled in a USA facility.
More Information
Proteolytic enzymes and Peptidase
Studies show that protein build-up in the joints and tissues are a major cause of occasional pain and inflammation. These important proteolytic enzymes break down proteins from food to release important nutrients (peptides and amino acids) for absorption into the body.
They also work systematically by breaking down foreign protein fragments before they can cause an inflammatory or allergic response. Peptidase contains very high levels of exopeptidase activity and is able to provide a high degree of protein hydrolysis, breaking down peptides completely into amino acids.
Peptidase works synergistically with endogenous enzymes to provide protein digestion throughout the entire digestive tract. Scientific evidence suggests that proteolytic enzymes, such as peptidase, can be useful supplements for digestive support, immune support, cardiovascular support, and general nutritional support.
Systemic Enzymes
Plant based enzymes like we us in all our products, can boost the immune system, improve digestion, promote proper elimination, (an added benefit smaller stools) help remove toxins from the body, help support joint difficulties, help with organic allergens, skin problems and poor coat.
Pets can greatly benefit, from the addition of digestive enzymes to maximize the results of their specialized diets. Pets also benefit from the addition of systemic enzymes to their diet for their anti-inflammatory properties. The ingestion of blends of enzymes containing specific proteolytic enzymes such as bromelain are very effective in relieving inflammation thus helps in healing.
Bromelain
Bromelain is most notable for its effectiveness in normalizing inflammation and decreasing swelling. Thus, the benefit of bromelain occurs over a broad range of doses and even small amounts are beneficial. A product with both enzymes systemic and proteolytic will help with joints, overall health and allergies.. Bromelain, taken orally, can digest and breakdown proteins in the blood helping the body have extra energy to speed up the healing process.
Signs That Your Dog May Have Arthritis Or Joint Problems:

Hard to take their normal walk, climb stairs, jump, or play

Limping or walking strangely

Swelling in or abnormal appearance of, a joint

Difficulty rising from a resting position
Lifestyle changes for Pets
Weight control: Weight control is an important component of any treatment for arthritis pain and joint stiffness. Excess weight puts more pressure on the joints. Keep your pet fit and if need be on a diet, your veterinarian should recommend a suitable diet for your pet.
Exercise Management: Exercise is an important component of keeping the joint moving. Exercise helps reduce pain, can prevent further joint damage and can help your pet maintain a healthy weight. No or little movement of a sore joint will cause the muscles around it to weaken, resulting in pain. Dogs, cats and all pets should be taken for a daily walk and kept as mobile as possible. Cats will benefit greatly from regular activity even if it is hard to do.
A little exercise taken frequently is recommended, so be prepared to wake up your feline or canine for a stroll about the house from time to time. Avoid letting him/her sleep in one place for hours.
Adequate Rest: Pets can greatly benefit with enough sleep. Some pets and many working animals do not get adequate rest for optimum healing. So give your pet time to rest to help them heal faster.
Attention: Most of all give your pet lots of love, attention and praise!
You may have tried many simple solutions that you but nothing has worked now try the best Pet-Enzymes Plus ® it can provide relieve for the aches and pains in your dog's joints.
Our Great Ingredients
Turmeric- Has been shown to include superior antioxidant properties. Is a potent Super Antioxidant with a Orac scale of 159,277. It Fights Free Radicals and enhance the overall health of Pets. Also improve mobility and help support flexible connective tissue.
Bromelain- Is most notable for its effectiveness in normalizing inflammation and decreasing swelling. As a natural systemic enzyme with many uses.
Protease 6.0- Is used to break down proteins to peptides. It will not digest protein to amino acids. A second enzyme is necessary for that to happen.
Protease 4.5- Is used to break down proteins in a different PH range then protease 6.0.
Methylsulfonylmethane- MSM is proving to be one of the safest and best treatments for the crippling affects of canine arthritis and joint problems that affects millions of aging dogs . Pets who suffer from arthritis often benefit greatly from MSM supplements. Several studies have shown that supplementation of MSM, significantly reduced joint degeneration and inflammation.
Boswellia Serrata- has been used for hundreds of years for treating arthritis and anti-Inflammatory effects that can reduce the pain and inflammation of joints.
Mojave yucca root- Yucca's most promising use is in the treatment of arthritis and joint pain. An extract of yucca reduces the swelling, pain and stiffness of arthritis in many studies.
Calcium- Muscle relaxation, reduced joint pressure, Bone and tissue health. As a source of calcium and phosphorus.
Flax seed- the flax seed carries one of the biggest nutrient payloads on the planet. And while it's not technically a grain, it has a similar vitamin and mineral profile to grains with antioxidants, and omega-3 fatty acids. Flax seed is high in most of the B vitamins, magnesium, and manganese. Some inflammation is enhanced by having too little Omega-3 intake.
Lycopenes- Lycopene is a member of the family of phytochemicals called carotenoids. It is the substance that gives tomatoes and several other fruits their deep red color. Researchers have found tomato lycopenes hold one of the most powerful antioxidants that neutralize harmful free radicals.
Manganese- Patented mineral glycinate chelated form for optimum absorption. Ours is amino acid chelated to enhance bioavailability. The body needs manganese for normal growth and health. Lack of manganese in animals has been found to cause improper formation of bone and cartilage, may decrease the body's ability to use sugar properly, and may cause growth problems.
Ingredients: Dicalcium phosphate, liver flavor, Microcrystalline cellulose, Methylsulfonylmethane (MSM), Flax seed, Mojave yucca root ext., Protease 4.5, Natural bacon flavor, Calcium glycinate chelate, Boswellia serrata (resin) ext., Turmeric (rhizome) ext. , Manganese glycinate chelate, Magnesium stearate, Silica, Bromelain, Peptidase, Lycopenes, Protease 6.0
Direction for use: Use one chewable tablet twice a day for pets less than 40 pounds. Use two chewable tablets twice a day for pets more than 40 pounds. Always dose with little or no food for best results. For faster results dose can be doubled until desired results are achieved.
Pet-Enzymes Plus ® Systemic enzyme chewables are to be given in-between meals to work on the proteins in the body and the free radical damage that may be causing the joint problems.
Our tabs do not contain any, chemicals, gluten, soy, yeast also wheat free, no eggs, no preservatives, no artificial coloring or flavoring. This product is Non-GMO and Corn Free.
All Natural Ingredients, Certified in full compliance with GMP Requirements for Dietary Supplements. Made in USA facility.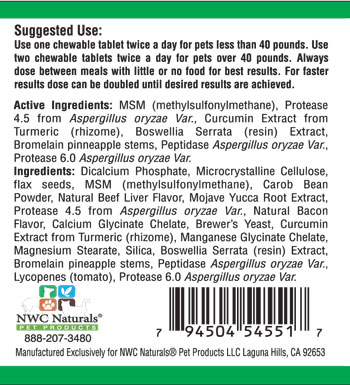 1. What type of research is behind the Pet-Enzymes Plus® formula?
Pet-Enzymes Plus® combines the latest research and clinical studies into one powerful formula. Each ingredient has been independently researched by the most respected names in their fields. Pet-Enzymes Plus® is a formula you can trust because its ingredients are clinically tested and proven.
2. Are there any side effects, is Pet-Enzymes Plus® safe to take with medications?
Pet-Enzymes Plus® has no known side effects. Also, there are no known drug interactions and the ingredients do not alter the action of any medications.
3. I am already giving my pet MSM, why add this formula also?
Pet-Enzymes Plus® combines 5 products into one super charged formula. Plain MSM is a good nutrient to supplement your pet's diet but plain MSM will not give you the systemic enzyme herbal effect like the combined ingredients in Pet-Enzymes Plus®. This is a highly effective formula that gives you results within a few days to a few weeks by addressing multiple problems in your pets system for overall health.
4. Why is it best to give Pet-Enzymes Plus® without food in-between meals?
Proteolytic enzymes that reduce inflammation will also digest dietary protein like that in kibble or canned food. If Pet-Enzymes Plus® contacts that food, some of the power of those enzymes will be redirected to digest the food rather than help with the inflammation. It will still help, but to maximize the benefit without food is preferred.
5. My pet is allergic to sulfur. Can I use this formula?
Pet-Enzymes Plus® does not contain any sulfur like the type that makes matches burn or fireworks ignite. It does contain a highly nutritious nutrient Methylsulfonylmethane or MSM, sometimes referred to as nutritional sulfonyl sulfur. MSM should not negatively impact your pet in any way. MSM has a long history in successful veterinary use.